England opener has experience from Pakistan Super League
'It was something we knew we had to deal with'
Sport Desk: Tom Harrison, the England and Wales Cricket Board chief executive, confirmed that playing international cricket behind closed doors this summer was "probably our only option" when chatting to Sky this week. What will that be like? Forget all the lame jokes that a behind closed doors match will not be an issue for English cricketers since this is what happens all the time in county cricket because that is not true; this is merely what a few "experts" who do not attend any county matches assume to be the case.
Jason Roy is a better witness given that the last game he played in the Pakistan Super League took place behind closed doors on 7 March when the Quetta Gladiators – Roy's team – were pitched against the Lahore Qalandars. "There was no atmosphere, simple as that," recalls Roy.
"It was very strange. As a batsman when the bowler's running in you learn to block out the crowd, but as soon as the ball is done you can hear them going absolutely berserk. But [in Lahore] there was just dead silence. You could hear your mate calling ones and twos, so you don't just have to work off each other's body language. It was hard to get up for it. But it was something we knew we had to deal with."
This may well be the case at the tail-end of this summer. Roy says: "I'm more than happy to play behind closed doors. It would just be nice to get out there. I feel like a kid again." He admits to "going a bit stir crazy". "I've got a bat and I'm just shadow-batting in the mirror – I'm looking pretty good. That's all I can do apart from hitting a tennis ball against the wall here at home."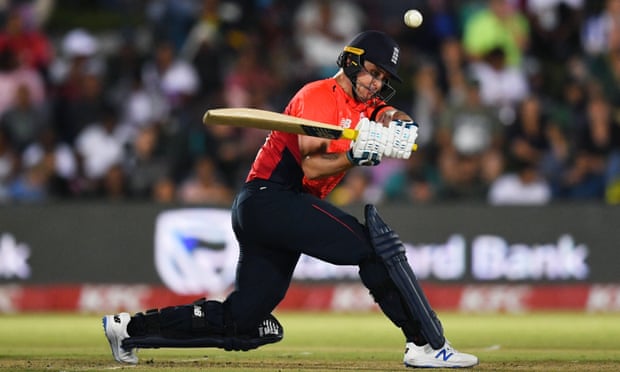 Roy at the crease oozes confidence. It is that hint of arrogance that makes him so mesmerising when in full flow. He seldom suggests he is riddled with self-doubt. Yet cricket is such a precarious game, especially for batsmen, that no one however good or headstrong is averse to the odd moment of uncertainty about the whereabouts of the next run.
So it is almost reassuring to hear Roy say: "To be missing this amount of cricket is quite a daunting feeling because you don't know how you are going to feel when you get back. You can watch videos to make yourself feel good and train well but until you're facing that first ball in the middle, you don't really know. You worry after three months out of the game: are you still going to be able to bat? But I try not to think about that too much."